On the main screen
SailRacer is designed to present the most important data in the best readable form to allow making tactical decisions as correctly and quickly as possible.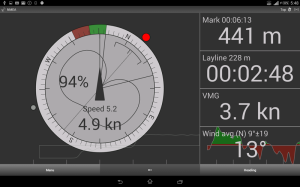 The main screen is a combination of graphical info and of numbers:
Compass rose – displaying the course on top
Shift indicator – representing the actual course deviation
Mark – bearing and turn instruction
Laylines
Wind direction and oscillation
Polar and polar efficiency parameter
Other parameters displayed on two panes, user selectable
Horizontal and vertical orientation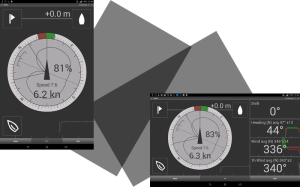 Rotating the device left or right screen is switched to portrait or landscape view.
Portrait oriented screen displays compass gear with one main parameter.
Landscape oriented screen has 4 user select-able parameters on the right side.
We have noticed that portrait screen orientation is used more often on dinghies, and landscape more often on bigger yachts.
Switching screens
Finger swiping the screen to the left (then to the right) – SailRacer toggles the display to other parameters.
There are 3 screens available in a portrait orientation and 2 in landscape.
To switch to the next screen is also possible by clicking "…" – three dots button at the bottom bar.
Switching marks
SailRacer allows/supports explicit management of the next mark to sail to.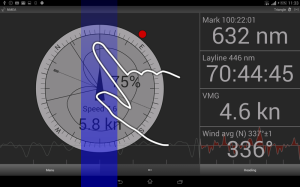 Finger swiping the screen up or down switches the target to the next or previous mark.
Selecting parameters
Press and hold – to change the displayed parameter.
If you wish to change parameter on the screen – press and hold  your finger on it for a few seconds. The list with all possible parameters will be displayed for selection. Select the parameter and e press OK.
Menu
Menu button is always available on the bottom left side of the screen.
Some devices has a special key – both (key and button) opens the menu:
Course and marks – to enter the course and marks editing
Settings – all the configuration options
History – list of recorder track to upload
Write a review – this option opens the store for review (displayed till store has been opened)
License – opens Premium license dialog (displayed till license has been purchased)
Results – opens results dialog (option available if tracking is enabled)
Start/Stop tracker – starts and stops instant tracking (option is available if tracking is enabled)
Stop race – stops the race
Exit – exits SailRacer
At the bottom right side of the screen the Action button is displayed. The button is different before the start signal, during a starting procedure or racing:
Start – should be clicked on first race signal
Sync – becomes available after you clicked Start. It should be clicked to synchronize countdown timer
Heading – becomes available after and the start of the race
Exiting the application
Menu > Exit
To exit SailRacer, click the Menu button then select Exit. SailRacer is exited.
Otherwise, SailRacer will keep running in the background if you turn the screen off, lock the device, return to the Home screen or start other applications. The battery consumption is small.